Part No:SPF2178-__K, SPF1461K, SPF1688-19K, SPF0066-__K, SPF1897K, SPF1571__K, SPF0086-__K, SPF0393K, SPF0255-__K, SPF2212K, SPF0200K and more
---
With the ever-expanding vehicles available in our markets, and customer's expectations to supply after market shock absorbers to almost every vehicle on the road, the need to adapt shock absorbers to different applications is in high demand. To help with adapting the vast range of shock absorbers SuperPro have developed bushings to adapt different eyes to allow variations of shock absorbers to be fitted to different applications.
Common Eye Types
There are generally two different types of eyes in passenger and commercial vehicles shock absorbers. Both of these types can have crush tubes installed to aid installation.
Double tapered eyes, small or large.
Parallel eyes, small or large.
Double tapered "Small" Eyes

Possible SuperPro options

SPF2178-_ _K (Available in 12, 15, 16 & 19mm ID)
SPF1461K
SPF1688-19K

Double tapered "Large" Eyes

Possible SuperPro options

SPF0066-_ _K (Available in 16, 19, 20 & 22mm ID)
SPF1897K
SPF1571-_ _K (Available in 16 & 19mm ID)

Parallel Eyes

Possible SuperPro options

SPF0086-_ _K (Available in 16 & 19mm ID)
SPF0393K
SPF0255-_ _K (Available in 16 & 19mm ID)
SPF2212K SPF0200K
SuperPro Bushing Dimensional Chart for common eye sizes
Double Tapered Bushings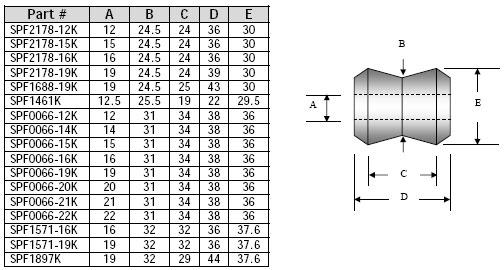 Parallel Bushings