---
SuperPro has a comprehensive range of universal components for all the extra bits you need
Alignment correction parts
Engineered bumps stops or jounce bumpers
Coil spring spacers
Shock absorber bushings
Specially formulated SuperPro Slippery Stuff bushing grease
Replacement sway bar link pin, mount or complete rod kits.
Coil spring spacers and tie rod end grease cups
Solid polyurethane bar for custom machining
Bushing removal tools
Strut braces
Sway bar mount brackets & bushings
Our universal parts will ultimately contribute towards a reduction in NHV. For example, a misaligned vehicle with excessive backward and forward movement would benefit from a univer introduces an unstable vehicle dynamic and excessive tyre wear. The adaptable design of SuperPro universal parts makes them ideal for a general repair as well has an enhancement against OE components.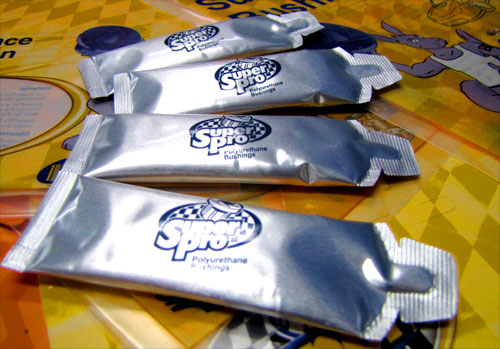 Another example would be the unique articulated lower mount for the adjustable sway bar link that is designed to work with or replace the O.E component.
When installing any SuperPro polyurethane unit into a vehicle it is important to use SuperPro lubricant, which ensures a smooth ride and reduced NVH (Noise Vibration Harshness).
Twelve months of extensive research and development has gone into SuperPros bushing grease specifically engineered to compliment the already outstanding performance of our polyurethane suspension bushings. The environmentally-friendly grease requires sparse application, making it cost effective to user. It offers nil-penetration into polyurethane, resulting in zero breakdown of the bushing, in turn providing consistent lubrication and exceptional wear-life.