---
For sharper steering, better handling and more grip in all driving conditions.
SuperPro Sway Bars are manufactured, designed and tested right here in Australia. Our Sway Bar range was designed following the idea of 'Dynamic Control'. This resulted in the Sway Bars being engineered to give the vehicle sharper steering, better handling and more grip, improving your overall driving experience while maintaining safety. Our SuperPro Sway Bar kits add durability, reliability and better performance outcomes.
The SuperPro sway bar range includes:
Heavy Duty 4x4 Sway Bar Kits
Performance Sway Bar Kits
Passenger Sway Bar Kits
Adjustable Sway Bar Kits
Lite Hollow Sway Bar Kits
Roll centre correction products
Caster, camber, toe alignment kits
Anti-lift products
SuperPro sway bar kits add durability, reliability and better performance outcome compared to stock/OEM and other aftermarket solutions.
---
SuperPro has a large range of aftermarket 4X4 Sway Bars that have been in the global market for years. Made in Australia, incorporating years of engineering experience, development time, and meticulous testing, we can safely say that our SuperPro 4X4 Sway Bars are the best. Our Heavy Duty 4X4 Sway Bars provides your vehicle with an increased grip, better handling, and a more precise driving experience on and off road.
Duel Cab Utes such as the Toyota Hilux and the Mitsubishi Triton do not have Sway Bars included in their design because OE manufacturers did not intend for their vehicles to be used how they currently are. Here at SuperPro, we understand you may have to tow or carry heavy loads for work or on your 4X4 adventure. Without these vehicles having a sway bar, our team recognized that carrying heavy loads caused poor turning capability, alignment issues and less tyre grip both on and off road.
After meticulous research and testing, SuperPro identified that a Sway Bar was the solution required to resolve these alignment and safety issues. Adding our expertly designed SuperPro Sway Bar to the rear of the vehicle dramatically transformed the Dual Cab Ute range from a utility vehicle to a safe, well rounded driving platform.
Performance Sway Bar Kits
The SuperPro Performance Sway Bar range is used in a variety of vehicles, particularly those used for performance such as track and performance vehicle enthusiasts. A wide range of performance Sway Bars have been engineered to give the driver sharper steering, better handling and more grip on the road and on the track.
SuperPro Performance Sway Bars are designed to reduce the body roll of the vehicle, through the increase in stiffness of the bars. This results in the vehicle having a greater balance and a better cornering grip in all performance driving situations. Our Sway Bars correct under and oversteering tendencies and are perfectly balanced for optimum neutral steering handling with a precise turning response. The SuperPro Performance Sway Bars have been designed and rigorously tested by our expert suspension engineers and performance driving professionals to ensure they will give your vehicle the ultimate driving experience.
Passenger Sway Bar Kits
We have a large range of Sway Bars that are specifically designed for passenger vehicles. These Sway Bars have been engineered to correct your vehicles driving geometry and resolve steering issues.
SuperPro Torsional Beam Axle Sway Bars
SuperPro has redefined the way Sway Bars are fitted to a front wheel drive vehicle with a Torsional Beam rear axle. These vehicles suffer from inherent understeer, SuperPro Control Bars neutralize the understeer and enhance the handling and stability of the vehicle. With the new bracket design, the benefits of a Sway Bar have never been easier to enjoy!
Features
New Design Bracket than bolts directly to the lower spring seat
Sway Bar bolt to the plate with two stage adjustment
No D-Bushes, no clamping to the Torsional Beams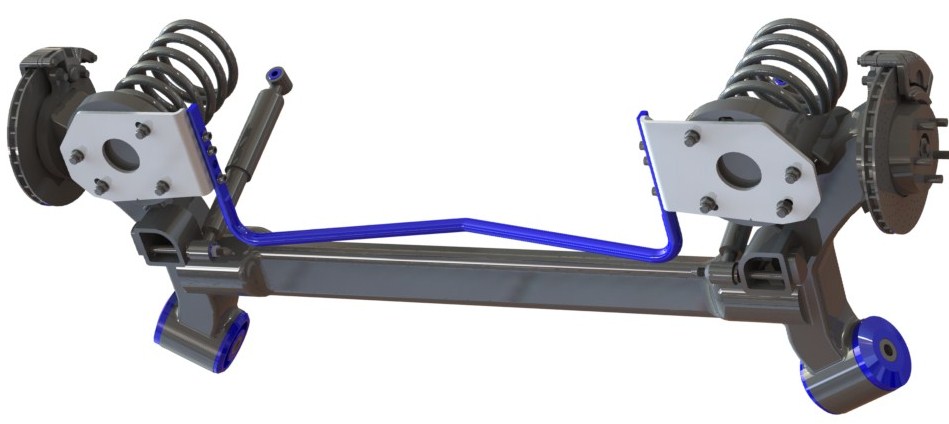 Benefits
Dramatically reduces rear end body roll as there is no original sway bar.
Corrects the inherent understeer
Will never come loose or rattle
Why use sway bars, stabilizer bars or anti-roll bars?
There are many reasons why your vehicle should be enhanced with our SuperPro Sway Bars. The prime reason a bar is fitted onto a vehicle is to maintain maximum tyre contact with the road. Suspension systems are engineered to vary the angle of the wheel and contact patch as a vehicle travels along the road. The optimum contact patch is achieved when the wheel is in a vertical position. Braking, body roll, squat and dive all cause the shift in contact patch.
SuperPros superior manufacturing and technological expertise in suspension ensures your vehicle has great performance and guarantees safety when cornering. SuperPro Sway Bars work by ensuring the load of your vehicle is distributed evenly over your tyres. This delivers longer tyre life and a better grip on the road leading to a more comfortable driving experience.
---
Types of Superpro Sway Bars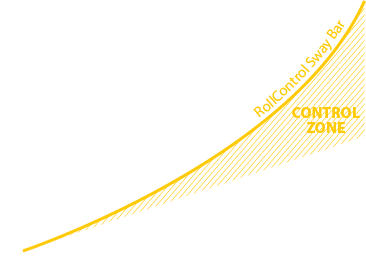 Adjustable sway bars
SuperPro's adjustable Sway Bars let you control the rigidity of the bars by allowing you to adjust the length of the arms. The adjustable Sway Bars are designed with 2, 3 or 4 different points of adjustment providing you with numerous stiffness options to better suit your driving needs. These Sway Bars also reduce the need to replace the entyre Sway Bar.
Hollow sway bars
SuperPro has specially designed hollow Sway Bars which are up to 30% lighter than traditional bars and are made from race spec chromoly. These unique progressive design Roll Control Bars are fully adjustable and provide reduced weight and better fuel efficiency for a range of vehicles. Our hollow Sway Bars facilitate progressive performance characteristics with even more sophisticated tuning and suspension setups.
Why offer an option of tubular sway bars?
For the last decade, manufacturers have focused a great deal on reducing vehicle mass to lesson fuel consumption. This has led to researching solutions that include more effective lightweight metals. Through the research and careful selection of choice of materials, hollow Sway Bars were deemed as an effective solution.
How is a Sway Bar stiffened?
A Sway Bar operates in a cross-sectional plane, offering torsional resistance to twist. Simply making a Sway Bar thicker makes the torsional resistance greater and therefore the Sway Bar becomes stiffer. Tubular material operates exactly like a solid bar using cross section torsional resistance. With a tubular Sway Bar design, Sway Bar rate or resistance can be adjusted by changing both the outside diameter and wall thickness.
Vehicles Covered
SuperPro sway bars are available for a massive range of vehicles, both as replacement and upgrade solutions for passenger, 4x4 and performance vehicles.
The best way to find if we have a sway bar for your car is to use our website product search!
---
SuperPro Sway Bar Engineering and Manufacturing
SuperPro employs two methods for manufacturing Sway Bars. One method is to bend Sway Bars using precision CNC machines. The other method is purposed for custom Sway Bar kits, which are hand bent by our team of expert product engineers.
The main method SuperPro utilizes is CNC bending because this offers our SuperPro team greater consistency and speed while maintaining ideal results. The degree of bends and length of bends is programed into the machine, resulting in precise production of our Sway Bars.
Although SuperPro uses high quality spring steel, there is a lot of work that goes into bending the metal. When the bars are bent, it will spring back into shape, wanting to return to its original state. The SuperPro engineering team have meticulously researched exactly how to counteract this issue for each bend, giving an extremely accurate Sway Bar design. Our SuperPro Sway Bars offer all vehicles an enhancement and greater performance.
SuperPro 4WD sway bar Kits are made from reinforced Australian spring steel.
SuperPro Performance sway bar kits are made from performance spring steel.
SuperPro custom sway bar Kits are hand bent for custom applications and do not warrant mass production.
Setting adjustment on arms
SuperPro adjustable Sway Bars have their adjustment levels determined based on the vehicle application. For accurate results, our SuperPro engineering team has developed a set of unique precision stamping tools and dies used to set the adjustment holes at the end of the Sway Bars.
Sand Blasted and Powder Coated
All SuperPro Sway Bars go through a three-step powder coating process. The initial stage of sand blasting is the Primer, this offers an anti-rust layer and removes any impurities on the metal. The second step is to apply an initial powder coat to the Sway Bar. This step is imperative to the process as it helps adhere the anti-rust primer previously applied and helps the last stage of coating. The final step of the process is to powder coat the Sway Bars in a blue coating and put them in an industrial oven to bake. This gives our Sway Bars our signature SuperPro chrome blue finish and offers increased protection with over 1mm of powder coating.
SuperPro Sway Bar Process
Review the vehicle & gather data
If a sway bar exists, replicate and improve original design
Sample test sway bars are produced and used for further product testing
Final Sway bar is precision modeled
Virtual testing is conducted
Real world testing is conducted
Sway Bar is certified and is given to factory for production