SuperPro Bushings are the perfect suspension replacement or upgrade solution!
SuperPro is the leading aftermarket suspension bushing manufacturer with 40+ years of experience. Like many of SuperPro's products, all their bushings are made on site in Australia. This gives SuperPro a competitive edge over all aftermarket bushing brands. Where they ensure greater quality at both manufacturing and engineering endpoints, more advanced bushing design, have extremely fast product turnaround, an extensive QA process and can get product to market much faster than all competitors.
---
SuperPro bushings are made from a proprietary polyurethane mix, tested and refined over 40+ years to suit Australia's harsh conditions. Using a team of highly skilled suspension technicians and engineers, SuperPro creates some of the best and most innovative suspension bushing products. Globally tested and sold in every continent, SuperPro is very comfortable offering a lifetime warranty on all their bushings.

SuperPro uses a unique polyurethane elastomer; a class of Thermosetting synthetic polymer that involves the reaction of various types of isocyanate resins with curing agents, to give an extremely durable material with the best features of both rubber and plastic. With not only a unique material, SuperPro suspension bushes are each designed to outperform both OE design and competitor design. Using a team of highly skilled suspension technicians and engineers, SuperPro creates some of the best and most innovative suspension bushing products.
Since the introduction of polyurethane into the aftermarket suspension industry in the early 80s many have tried but few have succeeded in manufacturing accurate, durable parts consistently. Anyone can take two tins and mix part A with part B and get a result. It takes foresight in management and a strong integration with technology to achieve a result every time, which is what SuperPro prides itself on.
SuperPro bushings can be used in strut bars, radius rods and trailing arm locations, which will improve the road holding, handling and tyre wear of any passenger car or 4WD. This is possible because SuperPro products achieve consistent tyre-to-road-alignment, particularly under braking and cornering loads. In many cases there is little or no effect on NVH, thanks to careful design by our R&D technicians.
SuperPro has an extensive range of poly bushing and suspension bush kits
Ever-increasing catalogue of quality aftermarket bushes; over 7,000 and growing!

All made with the SuperPro Proprietary engineering-grade polyurethane formula

A superior alternative to rubber: providing higher quality, quieter, longer lasting bushings

All SuperPro bushes come with a Lifetime warranty
Whether its a kit of all the popular suspension bushes for your car or a complete assembly, SuperPro has an extensive range of complete bushing and suspension part kit solutions.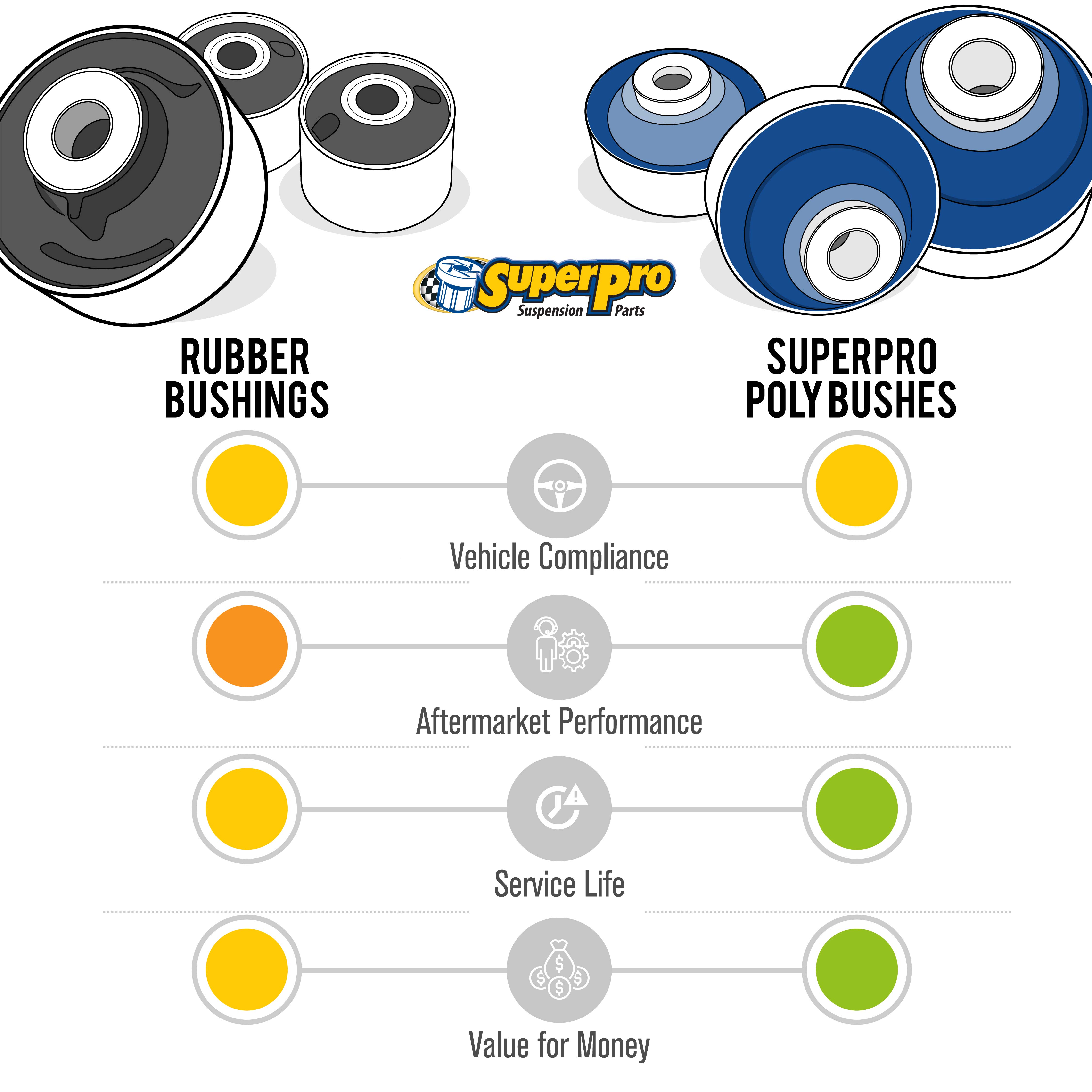 Our Bushing Design
SuperPro has over 40 years of experience within the suspension industry and are supported with a dedicated Research and Development Team. With the largest range of aftermarket bushings SuperPro have over 7000 parts, fitting well over 175,000 applications. SuperPro bushings are sold with a Lifetime Warranty that is without exception for the most part. SuperPro is also Australian owned and manufactured, as well as all testing of the products being performed in the harsh Australian conditions. Installing SuperPro polyurethane bushings into your vehicle will achieve several benefits including corrected or maintained steering geometry, better handling, increased safety, improved tyre wear, improved fuel efficiency and enhanced performance.
SuperPro suspension bushings are also now exported across the world including Europe, America and Asia. All SuperPro suspension bushes are designed to suit the application, although the bushes are easy to fit the focus when designing a SuperPro bushing is that it suits and enhances the application it will be fitted to. SuperPro bushings are known for their blue durable material. All bushings are made from a specifically designed polyurethane blend which allows the SuperPro product to provide customers with the top features of rubber and plastic. This specific blend of Polyurethane has precise mechanical properties which allow it to be extremely resistant to abrasion, have a high tear strength and resistant to oils and solvents. The features of polyurethane have proven to be an advantage for the creation of these suspension components and SuperPro believe it allows many design flaws in a rubber bush to be rectified without changing the design of the suspension.
All bushing designs incorporate the latest technology and are created for specific applications and outcomes to produce a bushing that is a precise fit with a long product life and keeps the vehicles steering geometry correct. The SuperPro Control arm, trailing arm and lateral arm bushings are cotton-reel design, this is because this style works better in these areas of the vehicle as it allows the primary focus of the bush is to stablise the movement in arms on the vehicle to occur. This one-piece design continues to prove necessary to restrict the displacement of the bush once fitted. SuperPro have the widest range of bushes for all the suspension needs of a vehicle including shackle style bushes, sway bar bushes and diff bushes. Adjustable bushes or caster off-set bushings have offset tubes to adjust camber and caster. In some cases, these bushings can provide caster correction in non-adjustable suspension.
The Dual-Duro bush is a new addition to SuperPro range which features a centre part with a softer duro and outer part with a harder duro. This means when bushes area loaded the material is soft and pliable so no NVH is transmitted and then when under load the outer/harder duro is utilised to continue to reduction in NVH through the bushing. DuroBall, is another SuperPro design which is newer to the market. With SuperPro engineers working on the weaknesses that had been found in vertical pivot bushings in control arm pivot points to the chassis. This saw the development of the DuroBall which is a unique metal and polyurethane hybrid design. This design combines the specifically formulated polyurethane blend and teams it with a specialized metal ball joint, resulting in a design that provides all the benefits of a vertical pivot bush with a long service life and greater durability. All the bushes within the range have in-built features to ensure high performance in the desired application.
SuperPro Suspension Bushing Features
Some in-built bushing features of these bushes include; tangential grooves, knurling, double helix grooves and bullet grooves. All these features are included in the design for grease retention and to ensure the bushings perform at the highest of standards while minimising excess noise, vibration and harshness (NVH).
Bullet grooves allow for variances to occur in control arms or spring eyes, although polyurethane is solid when manufactured the features of the SuperPro bushings, particularly bullet grooves and voiding allow for the bushing to act like liquid when loaded. This allows the bushing to prevent excessive NVH.
Knurling has several design advantages which include grease retention, but also a reduction in the surface area of the bushing that meets the crush tube. This results in less friction between the two components and allows unrestricted pivoting of the bushing around the crush tube and other steel surfaces.
Tangential grooves are the grease grooves in the head of the shackle bushes and as a result reduces the friction between the shackle bush heads and the steel it meets, such as the shackle plates. Another advantage of the tangential grooves is it ultimately reduces noise, as the stored grease is around the two surfaces that meet when the spring shackles rotate.
Double-Helix grooves are used inside the bushing and on the outside surface of the crush tube. This feature is highly used in the SuperPro greaseable shackles. This design gives the grease applied an area to travel along and allows a layer of grease to form. The success of this features is due to the way it allows the grease to travel from the centre of the bush and out into the grease grooves in the head of the bush.
SuperPro also use zinc coated steel in their bushes when required. This helps prevent rusting and ensures the longevity of the SuperPro bushing. Crush tubes are an important part of the SuperPro bushing system and are designed precisely to ensure the correct fit. Where possible SuperPro ensures it used high stress, corrosion resistant and hard-anodised Supaloy. This alloy solution is leaner and lighter which helps lower the vehicle weight, improve fuel consumption and running costs while also being long lasting and reliable.
What bushing material is best?
We strive in our workshops every day to do the best thing for our customers. We use the best equipment, the best methods, we keep our knowledge up to date and, of course, use the best replacement parts. So when it comes to bushings which is best? Original equipment or OEM styled rubber bushing or is SuperPro a better choice?
How good is Rubber?
Rubber does an OK job but it does have drawbacks. Limited service life is the most obvious. It is designed and manufactured to satisfy the new vehicle warranty requirements. Voiding and elasticity produce excessive movement, compromising tyre life and vehicle dynamics. Rubber needs to distort and deform to provide movement. This produces changes in geometry (alignment) and with rubbers poor memory properties this deformation often becomes permanent. Another key factor is cost. Many OE rubber bushes are not available individually. Often an assembly is all that is available genuine. The complete arm or assembly must be purchased even through just one bush has failed.
Why SuperPros bushing material is the best!
The benefits of using aftermarket components is that each product is designed from the ground up to exceed standards as a standalone component, rather than as a subordinate component of a larger module (as seen in OE engineering). SuperPro embraces the concept of developing a higher quality, more quiet, longer lasting alternative to standard rubber bushings.
SuperPro bushings are engineered with a properietary polyurethane.Polyurethane is a special elastomer-based material which gives an extremely durable suspension product boasting the best characteristics of both rubber and plastic. With extensive application to products ranging from hard plastics to carpet underlay, SuperPro have developed a unique polyurethane formulation exclusively for use as suspension bushing material. This has resulted in superior mechanical properties to rubber:
Superior abrasion resistance
Excellent memory properties
Unaffected by extreme temperature, oils and coolant
Superior control of noise, vibration and harshness (NVH) equal or exceeded OE.
Not constrained by OE design constraints (mass-production costs, warranty and vehicle assembly factors)
At a glance, some of the benefits from SuperPro products will include:
Maintained steering geometry

Enhanced handling & ride characteristics

A safer vehicle with more grip

Superior replacement and repair performance

Get back that new car feel

Improved tyre wear, fuel efficiency and reduced running costs
Vertical Pivoting Bushings
The vertical pivoting bush (VPB) is a perfect example in expressing the contrasting performance between OE rubber and poly bushings. This style of bushing was introduced my manufacturers to increase factory efficiency and reduce costs in the assembly of the under carriage and engine modules. The trade-off is an unfortunate tendency for distortion under high lateral loads, excessive lateral movement of the control arm. These original rubber VPB mounts, whilst providing a cost effective mounting solution, in most applications, ultimately results in a shorter service life.
In response to this latent issue, SuperPro polyurethane VPB bush designs ensures that the control arm is positively located in all situations with increased freedom to articulate as intended. The result for your customer is a vehicle that brakes safely and predictably and maintains wheel alignment under all conditions, thus maximising tyre life.
It takes the same amount of time to fit a rubber bushing as it does to fit a SuperPro one. The difference being that your customer will enjoy a component with increased service life, extended tyre life improved handling and performance with a SuperPro bushing. And thats backed with SuperPros exclusive lifetime warranty.
Lifetime Warranty
All SuperPro Suspension Bushings, Sway Bars and Suspension Arms are covered by a Lifetime Warranty. This means that if a SuperPro Product fails, it will be replaced free of charge without exception. SuperPro will also replace any brand of automotive Polyurethane Bushing, which has failed due to factory defects in material and/or workmanship as determined by SuperPro with our own product for free.
All SuperPro products are engineered in Australia and are Built to last. This is backed by the lifetime warranty offered by SuperPro for all their bushings.
Click here to see our Latest Products!
Click here to visit Tradeview to see what products are available for your car!