We offer complete and affordable control arm kit solutions!
SuperPro offers both complete repair and upgrade control arms kits. All our control arm kits, come complete with pre-installed SuperPro bushings and all other components needed for an install.
SuperPro control arms are manufactured, tested and designed in Australia. SuperPro control arms are built to the highest standard, designed to outperform the competition and the products OE counterparts. Following our business motto "Engineered to Outperform", SuperPro exceeds many design expectations and has been certified as such.
Whether its a kit of all the popular suspension bushes for your car or a complete assembly, SuperPro carries an extensive range of complete replacement arms and suspension part assembly solutions.
Complete arms and assemblies
Pre-installed SuperPro Bushings
Our aftermarket control arms compliment our existing suspension product range
The trend to fit accessories, larger tyres, rims and suspension lift kits to a 4WD has exposed the lack of Camber and, particularly, Caster Adjustment required to return the suspension geometry to OEM settings.
This leads to undesirable handling and driveability issues such as wandering all over the road, uneven and premature tyre wear, along with the steering wheel vibrations. SuperPro Control Arms are manufactured from a hybrid of highstress, cold formed steel tube and forged steel, with an adjustable position Ball Joint and are fitted with SuperPro bushes.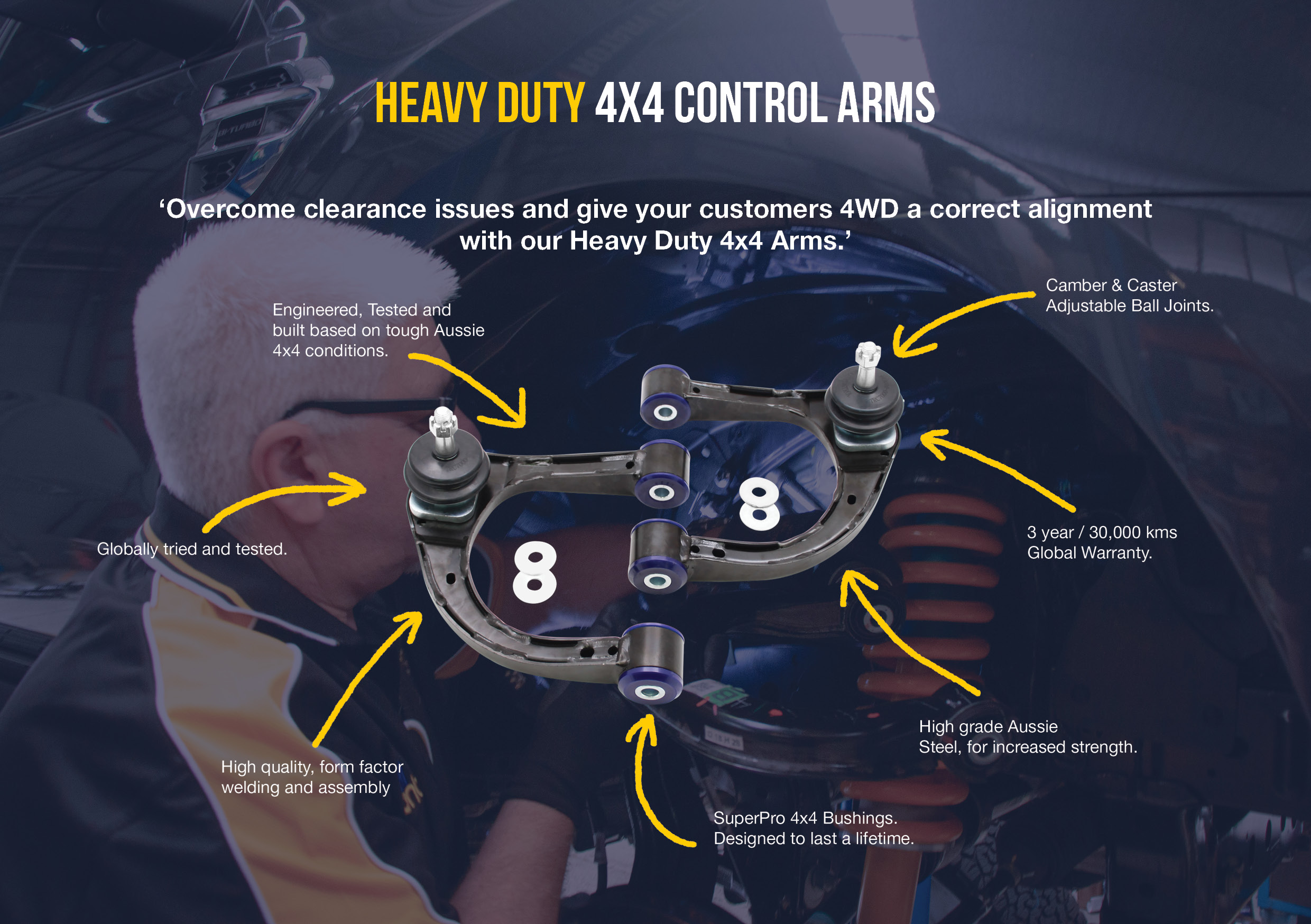 SuperPro 4x4 Upper & Lower Control Arm Features
Complete Adjustability
Designed and Tested in Australia
Made in Australia (Melbourne) with Aussie Steel
Complete Kit solution
Includes SuperPro Bushings
Lifetime Warranty
Solves Alignment Issues
Longer Tyre Life
Approved Nationally - VSB 14 Compliant (ADR compliant)
Certified and confirmed to exceed OE specifications
SuperPro upper controm arms are supplied with the camber and caster adjustable ball joints and are fitted with SuperPro bushings. The design of these control arms has removed the common issues usually faced with getting the correct alignment and clearance and they also reduce tyre wear and allows the safety of the vehicle to be maintained.
In-built camber and caster change to suit lifted vehicles, Increased clearance between spring and Control Arm at full articulation, In-built droop increase to allow an even all round vehicle lift, Designed with FEA to exceed O.E specifications for strength and durability, OE Quality ball joint, Includes SuperPro Bushings (pre-installed), Built tough in Australia using high strength, OE grade Aussie steel. Re-designed and Up-rated Ball Joints, where applicable Up-rated Camber Bolts for four positions and camber increase version is ideally suited to a lifted vehicle.
Performance Control Arms
These kits were developed as part of the 'Grip Dynamics' system SuperPro's Roll Control range promotes. This improves handling and performance by focusing on key alignment and dynamic handling elements. This includes up to 1 degree of extra dynamic positive caster, anti-lift which results in more traction and power delivery, precise steering, better handling and increased grip. There is also a noticeable performance upgrade and weight reduction.
Performance Alloy Control Arms
Supaloy high stress, corrosion-resistant material. Results in arms that are more rigid and less likely to flex than the OEM steel arm, maintaining static wheel alignment settings even under the most demanding of circumstances.
DuroBall metal poly hybrid technology for vertical pivot bushings that combines the core strengths of SuperPro's engineered polyurethane coupled with a specialised metal spherical bearing.
Is designed to maximise the static caster gain over the factory arms and, as always with SuperPro bushings, positive arm location ensures that dynamic alignment in maintained.
Repair Control Arms
These arms are perfectly suited as a standard replacement and are an upgrade from the factory arms, eliminating undesirable arm movement to maintain better steering geometry in all driving conditions.
Our passenger arm upgrades, incorporate improved design, premium material upgrade and upgraded bushings. Incorporating SuperPro bushings these control arms give a lifetime of value.