We offer complete and affordable control arm kit solutions!
SuperPro Control Arms are manufactured, designed and tested right here in Australia. SuperPro Control Arms are built to the highest standard and are designed to outperform the competitors and a product's OE counterpart. Following our business motto "Engineered to Outperform", SuperPro exceeds many design expectations and has been certified as such.
SuperPro carries an extensive range of both complete repair and upgrade control arm kits. Our control arm kits come complete with pre-installed SuperPro Bushings, and all other components that are needed for an installation. Our aftermarket control arms have been designed to complement our existing suspension product range, so you can give your vehicle the ultimate upgrade with your favorite SuperPro products.
The trend of fitting accessories, larger tyres, rims, and suspension lift kits to a 4X4 vehicle has exposed the negative effects it has on a vehicle's wheel alignment. After these upgrades are installed, the vehicle will require both Camber and Caster adjustments to return the suspension geometry to OEM settings.
This leads to undesirable handling and driveability issues such as uneven and premature tyre wear, steering wheel vibrations, and wandering all over the road. Our SuperPro Control Arms have been designed to alleviate these issues and ensure better handling and performance.
SuperPro Control Arms are manufactured from a hybrid of high stress, cold formed steel tube and forged steel, with an adjustable position Ball Joint. They are also fitted with SuperPro bushes.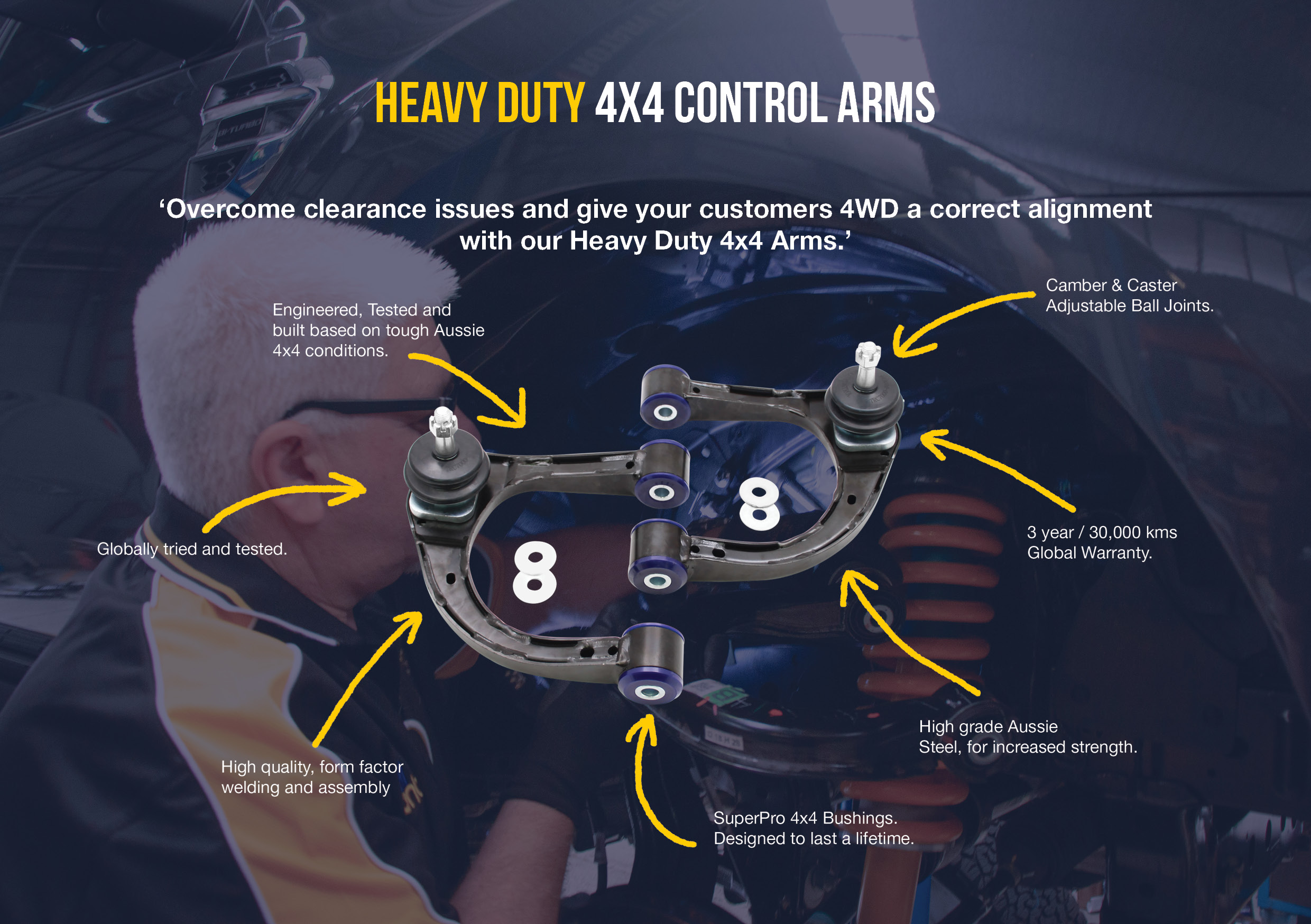 SuperPro 4x4 Upper & Lower Control Arm Features:
Complete Adjustability
Designed and Tested in Australia
Made in Australia (Melbourne) with Aussie Steel
Complete Kit solution
Includes SuperPro Bushings
Lifetime Warranty
Solves Alignment Issues
Longer Tyre Life
Approved Nationally - VSB 14 Compliant (ADR compliant)
Certified and confirmed to exceed OE specifications
4x4 Upper Adjustable Control Arms
SuperPro Upper Control Arms are supplied with the Camber and Caster adjustable ball joints and are fitted with our SuperPro polyurethane bushes. These adjustable ball joints can alter the Camber and Caster to the correct settings, giving your vehicle the best wheel alignment settings and increased clearance.
The control arms have been designed to removed the common issues that are usually faced when correcting alignment and clearance. They have also been designed to reduce tyre wear and allow the safety of the vehicle to be maintained.
SuperPro 4x4 fixed upper control arms are an easy to install alignment correct solution.
These arms are ideally suited to a "conventional" 50mm lift to offer an easy solution to correct alignment via the OE adjustment mechanism on the lower arms. Providing an increase between +2.5 and +3.5 degrees of caster and up to 1.5 degrees of negative camber these new arms are fit and forget.
SuperPro Standard 4X4 Control Arm features include:
In-built camber and caster change to suit lifted vehicles
Increased clearance between spring and Control Arm at full articulation
In-built droop increase to allow an even all round vehicle lift
Designed with FEA to exceed OE specifications for strength and durability
OE quality ball joint
Pre-installed SuperPro Bushings
Built tough in Australia using high strength, OE grade Aussie steel
Redesigned and up-rated ball joints
Up-rated camber bolts for four positions
Performance Control Arms
The SuperPro performance control arms were developed as part of the 'Grip Dynamics' system that our Roll Control range promotes. This system improves handling and performance by focusing on key alignment and dynamic handling elements. This includes up to 1 degree of extra dynamic positive caster, anti-lift resulting in more traction and power delivery, precise steering, better handling and an increased grip. There is also a noticeable performance upgrade and weight reduction.
Performance Alloy Control Arms
SuperPro Alloy Control Arms are built for precision performance. These control arms are made from Supaloy which is a high stress, corrosion-resistant material. This gives the vehicle a set of control arms that are more rigid, resulting in less body roll. It also maintains static wheel alignment settings even under the most demanding circumstances.
Repair Control Arms
We offer a large range of complete repair and upgrade Control Arm kits, providing you with an easy to install and complete kitted solution. These Control Arms are perfectly suited as a standard replacement for factory control arms. Our Repair Control Arms are upgraded by eliminating undesirable arm movement to maintain superior steering geometry in all driving conditions.
SuperPro's Repair Control Arms give you a lifetime of value by incorporating an improved design, premium material upgrade, and SuperPro Bushings.
---
Control Arm Manufacturing and Engineering
SuperPro manufactures multiple variations of control arms. These Control Arms have different features based on applications; 4X4 Control Arms, Performance Alloy Control Arms, and Repair Control Arms.
SuperPro Control Arms serve multiple purposes. The primary purpose for Performance and 4X4 Control Arms is to solve wheel alignment issues, adjusting the Camber and Caster settings of the vehicle. However, SuperPro Repair Control Arms are a complete repair solution. These Control Arms offer increased performance and a lifetime of value by improving the design of the OE Control Arm and incorporating our SuperPro Bushings. Depending on vehicle application, SuperPro Control Arms can either come as a fixed solution or an adjustable solution.
Typically, most Control Arms have a high range of movement. Most OE and aftermarket Control Arms utilize bonded rubber bushings. Due to the constraint strain of flex from all the Control Arm's movement, these rubber bushings will wear quickly and will tear after a certain amount of time. This leads to a decrease in performance and will cause more suspension complications in the future.
To combat this issue, SuperPro has pre-installed each Control Arm kit with our unique range of SuperPro polyurethane bushings. Our Bushings have been engineered to complement the design of our Control Arms, giving you the best possible wheel alignment solution and an improvement in vehicle performance.