Get Off Road Enhanced with SuperPro 4x4 Suspension Parts!
SuperPro is leading the way in 4x4 suspension parts. Our 4x4 product range has been in the market for many years now and as such has been tested globally in the harshest off road conditions. We guarantee a lifetime of value for all our 4x4 suspension products and as such offer a lifetime warranty. We manufacture one of the toughest and largest ranges of aftermarket 4x4 suspension parts!
---
Heavy Duty Upper & Lower Control Arm Kits
SuperPro have the solution for your lifted 4WD, our heavy duty 4x4 control arm kits are made in Melbourne, designed and tested in Brisbane and built for harsh off road conditions. Don't waste time with any other control arm! Get a complete affordable control arm kit which provides a perfect alignment solution. Search our complete range of 4x4 suspension parts by using the search above.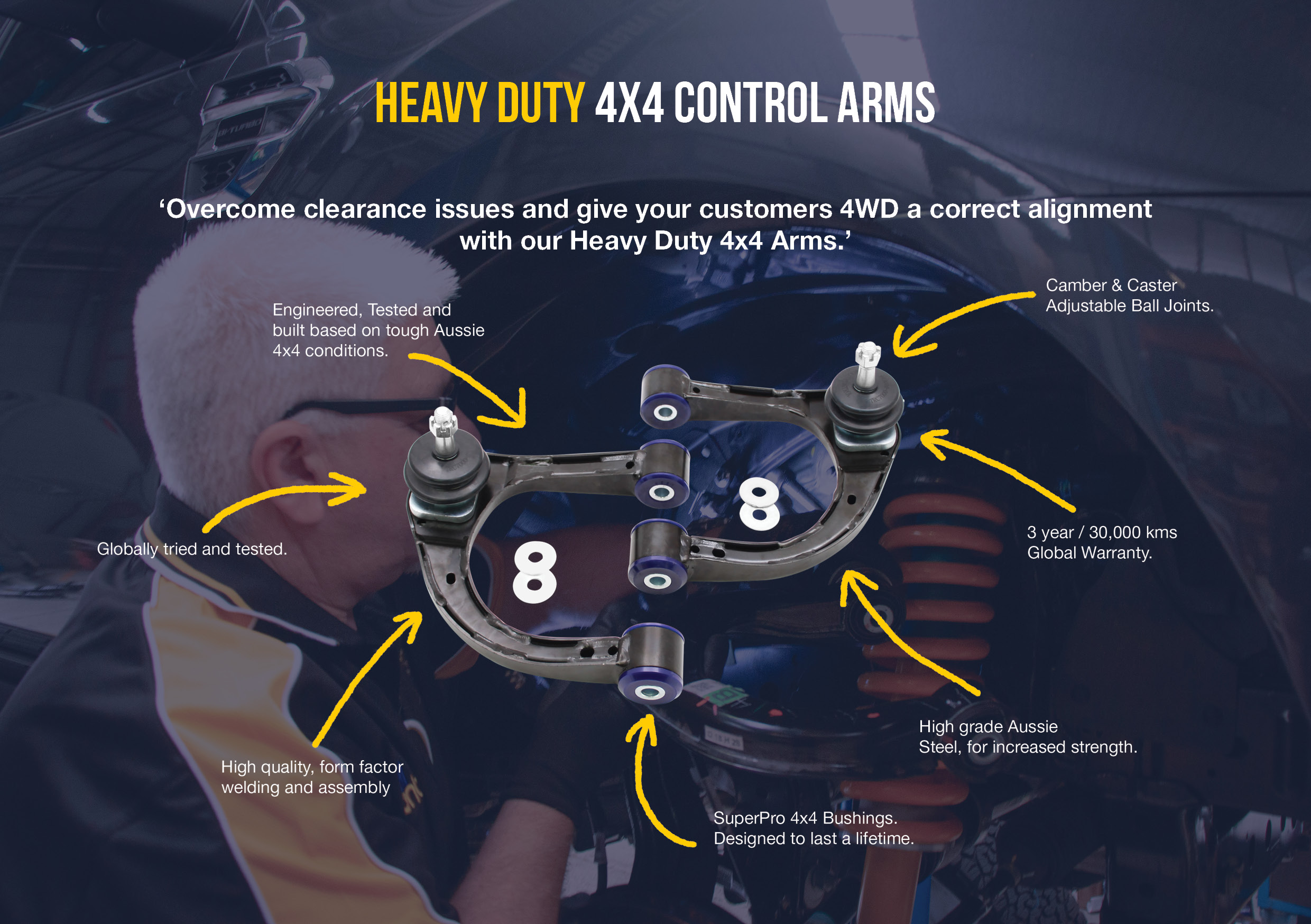 Engineered to Outperform. SuperPro has a large range of aftermarket 4x4 sway bars that have been in the global market for many years. Made in Brisbane Australia, incorporating years of engineering experience, development and testing. We can safely say SuperPro 4x4 sway bars are the best. SuperPro's heavy duty 4WD sway bars, offer increased grip, better handling and a more precise driving experience on and off road.
SuperPro is the leading aftermarket suspension bushing manufacturer. Being a proud Australian company all our suspension bushes are designed, tested and made in Brisbane, Australia. This ensures we have an extremely fast product production time, high product quality control and can get product to market much faster than all our competitors. Our 4x4 bushings have been tested around the globe in the harshest off road conditions and extreme applications. Backed by a lifetime warranty our 4x4 bushings will improve your 4WD's performance.
Ensuring long life in harsh off road conditions.
A SuperPro Bushing and Greaseable Shackles upgrade will leave the rear end of your 4WD handling just about anything you can throw at it!
Rear leaf Spring bushings and shackles are often overlooked when upgrading the suspension of a 4WD. Leaf spring bushings stabilise the movement of the rear axle, inferior bushes in this area will cause the solid rear axle to move and impart rear end passive steer to the vehicle. It also causes the vehicle to "wander" all over the road and be unstable under heavy braking. This can be especially noticeable carrying a load or towing a boat or caravan.
Simple & Affordable 4x4 Lift Solution
SuperPro Easy Lift Kits are the ideal way to lift a standard height Dual or Single Cab 4WD Ute and retain the standard suspension. Each kit has been thoroughly tested and fitted to ensure the lift for each application is the right amount to maintain a safe working environment for the standard suspension.
Engineered for the harshest off road conditions!
SuperPro has developed what is arguably the most sophisticated castor increase, high articulation and perfectly weighted replacement Radius arms for the 4WD market.
Raising a vehicle washes off castor and the effects of decreased castor are a loss of straight line stability, vague steering at higher speeds and can cause castor shimmy.
The SuperPro Lift Correction Arm Kit solves the issues with "built in" castor correction in the design, with nearly 4 Degrees for a 50mm lift and 2.5 Degrees for a 75mm lift. Add in more articulation by utilising our SuperPro Hybrid bushing material and this arm becomes the only choice.
Misc 4x4 Alignment Parts
Diff Drop Kits
ABS Brake Line Kits
& More