Due to SuperPro's Advanced Bushing Designs, they Reduce Noise Vibration Harshness (NVH).
SuperPro bushings are the market leading choice for aftermarket bushings for your vehicle. The original equipment (OE) rubber bushings in all factory vehicles come with standard fit components that are mass produced for each make and model and are made to be soft and produce no noise. Poly bushings are known for their increased noise, but not SuperPro bushings.
---
SuperPro Polyurethane bushings are engineered for a specific application and are designed in some cases to eliminate issues that arise with the OE bushing after a vehicle release. Some issues that can arise are around the noise a failing bush emanates.
Rubber bushings can also deteriorate over time, they have been known to develop hard crusts and crack or break away. When this happens and the rubber fails it can make a squealing noise, which has been likened to eating overcooked haloumi cheese.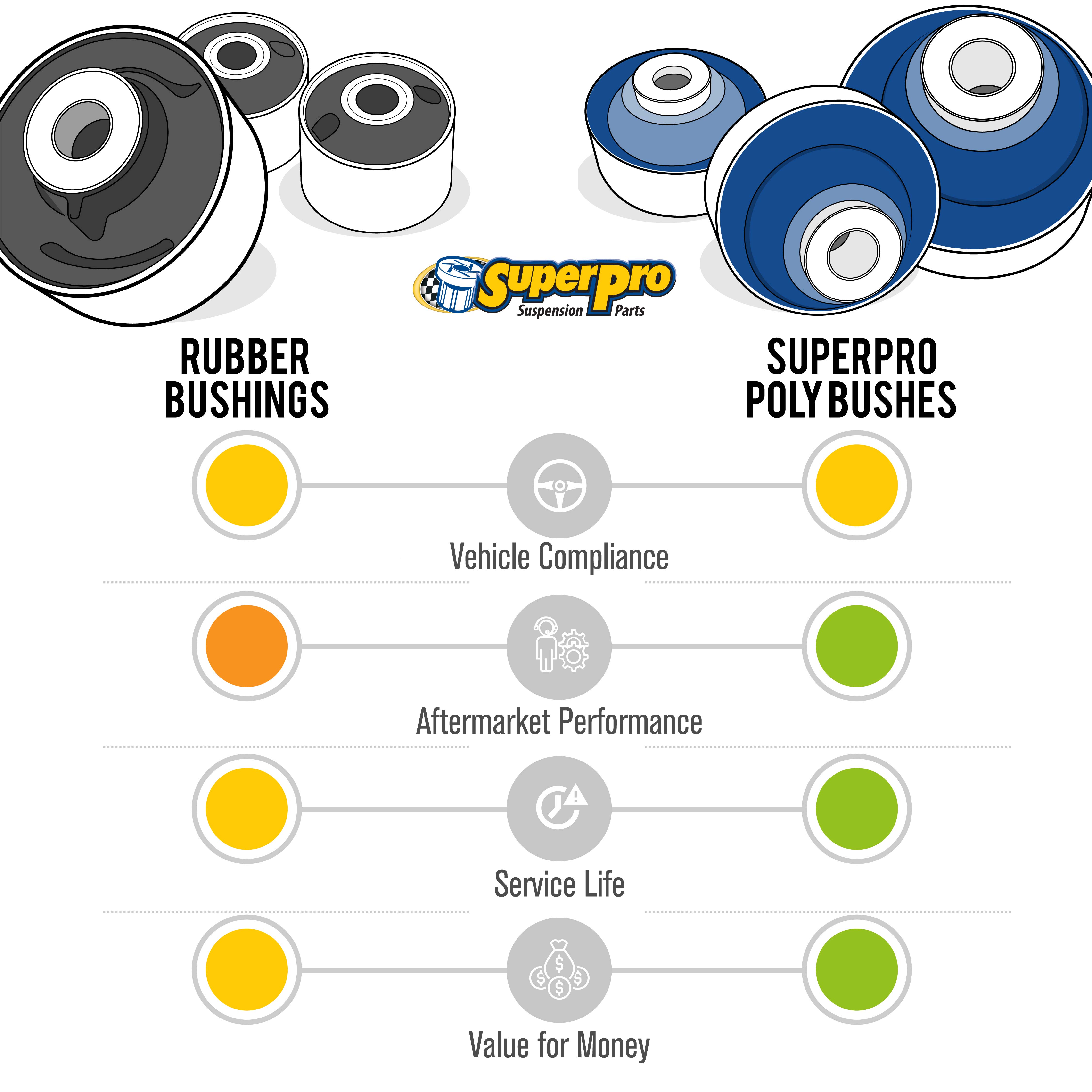 Polyurethane bushings from SuperPro come with a lifetime warranty because SuperPro is confident that their bushings will not fail. They also reduce and in some cases eliminate the noise, vibration and harshness (NVH) transmitted through the vehicle.
It is recommended as either an upgrade or repair replacement that you choose SuperPro bushings. The in-built features that the SuperPro bushings have ensure they perform at the highest standard and these features also minimise and in some cases eliminate noise through the use of the grooves for grease retention. Another design feature, knurling, also provides a minimised surface area of the bushing that meets the crush tube, resulting in less friction, also resulting in minimised noise.
Crush tubes are an important part of the SuperPro bushing system and are designed precisely to ensure the correct fit per application and where possible it is ensured that high-stress and corrosion resistant hard-anodised Supaloy is used.
All SuperPro products are engineered in Australia and are built to last. These products are backed by a lifetime warranty offered by SuperPro for all the bushings in their range.