After developing, what is arguably, the most sophisticated, castor increase and high articulation and replacement Radius arms for the Toyota Landcruiser.
SuperPro now has the Patrol covered!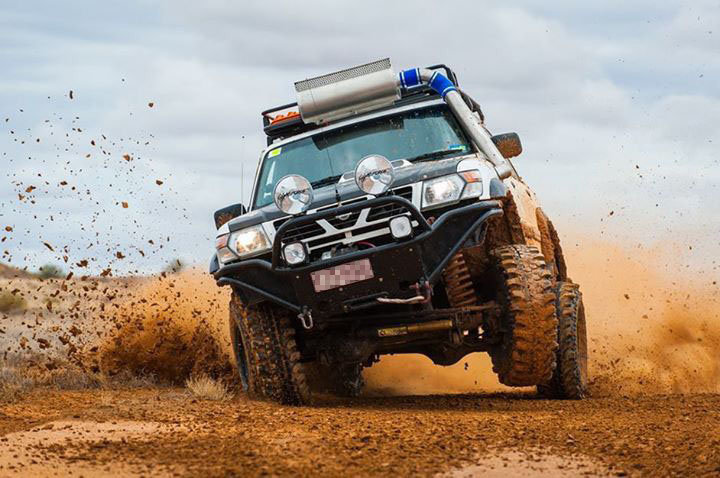 The SuperPro Lift Correction Arms incorporate SuperPro Hybrid Blade Technology and have been developed using sophisticated Finite Element Analysis programming, used extensively in the OE environment, along with a rigorous testing regime both in the lab and in the field. The combination of a 20% increase in sectional properties combined with the use of OE grade, High Carbon Australian steel, the result is an arm of comparable weight to the original radius arm, with increased strength, built for all on road and off-road conditions.
Why be concerned about Castor?
It should be common knowledge by now that raising a vehicle washes off castor. The effects of decreased castor are a loss of straight line stability, vague steering at higher speeds and can cause castor shimmy. The SuperPro Lift Correction Arm Kit solves the issue with built in castor correction in the vehciles design, with nearly 4 Degrees for a 50mm lift and 2.5 Degrees for a 75mm lift. These Radius Arms have been designed with castor correction to only suit raised vehicles. The design uses concentric bushings with advantages such as durability, comfort and increased articulation over non-centrally located bushings.
Why deliver more Articulation?
Articulation is critical to maintain tyre contact and keeping the cabin stable in rough road and off road scenarios. Articulation is the hanging point for many aftermarket Radius arms, which continue to use the OE bushings or inferior replacement rubber alternatives. The SuperPro Radius Arm Bushings utilises our Hybrid material and offers superior articulation by redefining the form and function of the bushing in this location. By redesigning the profile of the bushing and creating a pocket for our SuperPro hybrid material to flow, a higher articulating bush with far greater durability has been created. The addition of a larger inner tube has led to a more robust part for high speed highway stability and off road ruggedness without compromising NVH.
Why be concerned about un-sprung weight?
When it comes to a radius arm and vehicle suspension, unsprung weight is a critical factor. It affects not only ride and comfort but the dynamic system dampening and harshness. Vehicle Manufacturers spend a significant amount of time tuning vehicle suspension systems to ensure resonant frequencies are mitigated and tyre to road contact is maximised in all conditions, altering the unsprung mass of components has potential to compromise this. The SuperPro Lift Correction Arm retains the OE design intent by providing an equally weighted arm. Solid section radius arms may well be rugged for the extremist 4x4 user, but the extra weight does cause concerns and adds stress to other suspension components. This can be an issue on heavily corrugated roads where the extra unsprung mass generates more energy that has to be absorbed by the shock absorbers, add to this, a set of bigger, heavier wheels and tyres and this issue is further exacerbated. With advances in materials and engineering designs, a smarter hollow section option exists today over the old school solid design.
Now there is no reason to compromise on road handling for off road performance and durability.
TRC1015 - Now available: to suit Nissan Patrol GU 1997 to 2010