SuperPro Upper Control Arms are the perfect IFS 4WD alignment solution!
If you lift your 4WD than you need some sort of alignment correction to fix the permanent change in your 4WD's suspension. You can either do this with an alignment correction bushing or you you can get a complete solution in the form of a SuperPro adjustable upper control arm kit. Sadly bushings dont fix all issues that a control arm can, such as droop. So an upper control arm is the perfect solution to fix all alignment issues that arise when a IFS 4WD is lifted.
SuperPro Aftermarket Upper Control Arm kits will provide your 4WD with the best alignment.
---
SuperPro 4x4 upper control arms are manufactured, tested and designed in Australia. SuperPro upper control arms are built to the highest standard, designed to outperform the competition and the products OE counterparts. Following our business motto "Engineered to Outperform", SuperPro exceeds many design expectations and has been certified as such.
We offer both complete repair and upgrade upper control arms kits. All our upper control arm kits, come complete with pre-installed SuperPro bushings and all other components needed for an easy installation.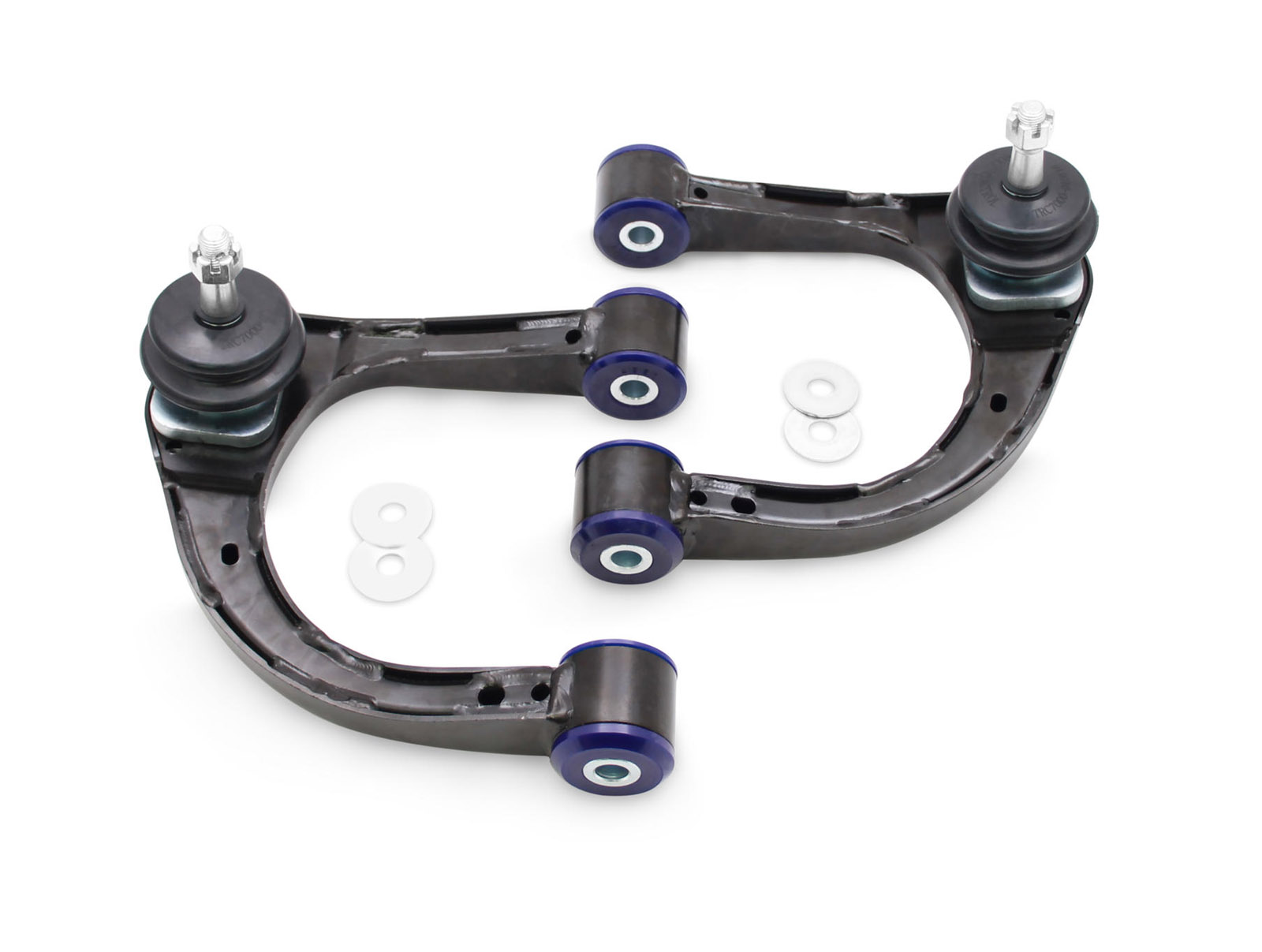 SuperPro upper control arms are supplied with Camber & Caster Adjustable Ball Joints, allowing you to set the perfect alignment if need be. Please note to make things easier for your we have set our adjustable upper control arms to the recommended position for a 2 inch lift.
Our control arms come pre-installed with SuperPro bushings ensuring the best suspension performance.
Getting the correct alignment is no longer a problem as our upper control arms offer full adjustment, SuperPro control arms are also designed so that they overcome lifted 4WD clearance issues.

Our aftermarket upper control arms deliver up to 3 degree of caster along with extra camber, allowing for the optimum alignment settings for a 2" lifted vehicle.
SuperPro 4x4 Control Arms Nationally Approved
SuperPro has worked with an OE (genuine part) manufacturer in Australia to ensure OE standards of manufacture and genuine quality were met. Not only are SuperPro upper control arms made in Australia they are also made as tough as possible. So that they we could deliver a product to the automotive market that would eliminate the issues other OE and aftermarket arms on the market were facing, which among many issues included fatigue. SuperPro's unique upper control arm design allowed SuperPro to place the adjustable ball join in a more neutral position and increase the strength of the arm.
To further solidify SuperPro suspensions statement of 'Engineered to Outperform', we provided various sets of our 4x4 adjustable upper control arms to a third party engineering company. Contracting them to do a third party analysis of our upper control arms, outside of our engineering facilities.
The main underlining note being "In line with the provided information from SuperPro, the FUCA complies with the ADR ruling as stated in the NCOP. It is manufactured to meet or exceed the factory item, with built in features & benefits to suit raised suspension.". Below you can view their findings, in full.