SuperPro 4x4 Suspension Bushings are built for the outdoors!
Our 4WD suspension bushings are designed to offer a lifetime of value in the harshest off road conditions. With proprietary bushing features and a unique bushing material. SuperPro 4x4 bushings are the best in the world.
SuperPro 4x4 bushings are Australian owned and manufactured, all testing of the SuperPro 4x4 bushings is performed in harsh Australian conditions. Sold globally our 4x4 bushings have been put through their paces in some of the most diverse climates, showcasing that they are the best.
Installing SuperPro 4x4 polyurethane bushings into your vehicle will achieve several benefits including corrected or maintained steering geometry, better handling, increased safety, improved tyre wear, improved fuel efficiency and enhanced performance.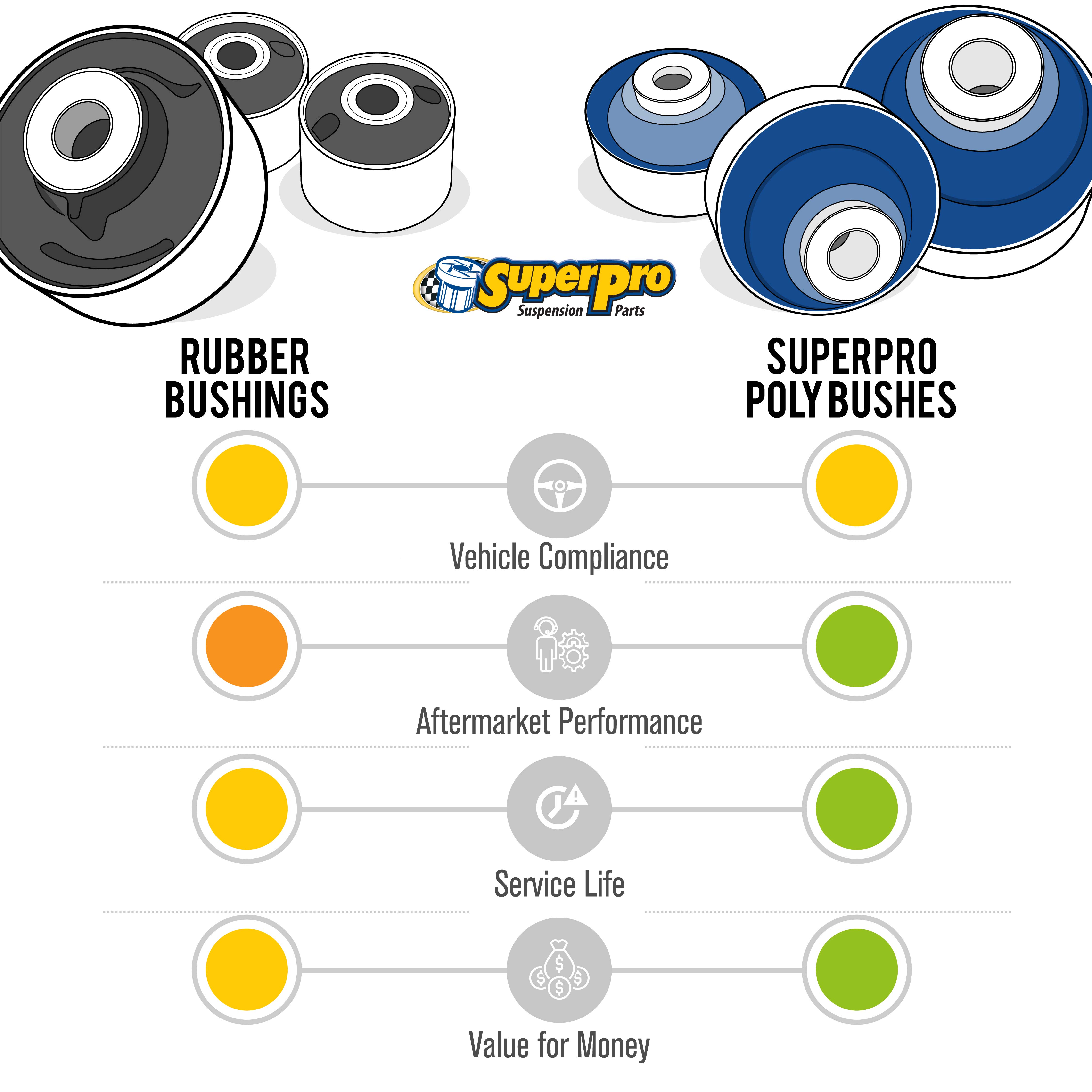 All SuperPro's 4x4 suspension bushes are designed to suit the application, this is particularly true for 4x4 applications. The specifically designed polyurethane blend provides customers with the top features of rubber and plastic using precise mechanical properties which makes it extremely resistant to abrasion, tears, oils, solvents and outdoor elements such as mud and water. This is particularly important for 4WD applications where the vehicles are subject to copious amounts of mud and water.
SuperPro bushings are known for their blue durable material. All bushings designs have specific features that ensure grease retention which improve the longevity and performance of the bushing. Other features of the bushings also enhance stabilisation and restrict displacement once fitted.
All 4x4 bushings from SuperPro ensure that the performance off road is not jeopardised and in many cases improves articulation, wheel alignment and overall handling of the vehicle.
All SuperPro products are engineered in Australia and are Built to last. This is backed by the lifetime warranty offered by SuperPro for all their bushings.